Verifone is an American multinational corporation headquartered in Coral Springs, Florida, that provides technology for electronic payment transactions and value-added services at the point-of-sale.

The company sells merchant-operated, consumer-facing and self-service payment systems to the financial, retail, hospitality, petroleum, government and healthcare industries.

Their private label cleaning card, saturated with IPA, may be used for table top, handheld, and standalone payment terminal devices.

KICTeam's non-IPA cleaning card is the only cleaning card that has been approved for use in Verifone UX300 technology within fuel pump stations due its non-flammable and non-hazardous qualities.
Verifone Card Reader Cleaning Cards w/ IPA
Verifone PN: 2746-02 :: KIC PN: KWV-HSCB40 (IPA)
Starting at $32.40 per box of 40 Cleaning Cards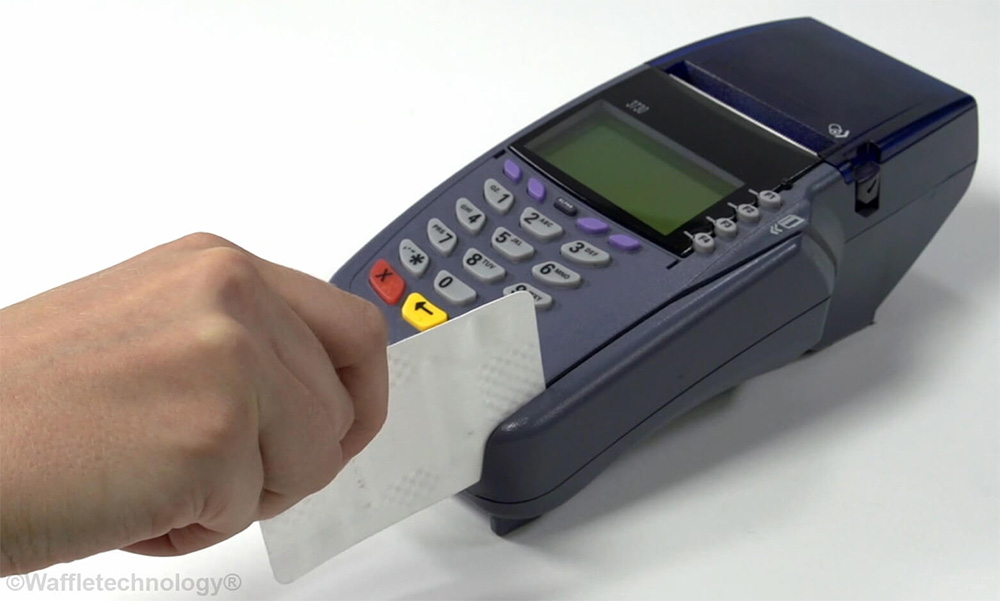 Countertop Credit Card Reader
Clean Routinely with Verifone's IPA Cleaning Cards
Waffletechnology® for Card Readers w/MiracleMagic™
Part Number: KW3-AHSCB40M (Non-IPA)
Starting at $36.72 per box of 40 Cleaning Cards
Petroleum Dispenser Card Reader UX300
Requires this approved non-IPA product only.
---
"Verifone encourages and promotes the use of the KICTeam Cleaning Card as part of their standard operations to help extend the life of their devices as well as reduce costly repairs. KICTeam is the only manufacturer of Verifone's approved cleaning card incorporating the patented Waffletechnology® design.
Use of other non-approved products may invalidate the warranties."

"We have evaluated your cleaning card and it has been approved for use with the UX 300 Card Reader. The card passed all our HQA testing."
– David Munson, Global Relationship Manager, Verifone, Inc.
---
Benefits of Equipment Care
Reduce card reader errors and expensive fallback fees
Reduce equipment downtime and maintenance issues
Prolong equipment life
Improve your customer's experience
Credit Card Readers
KIC's patented Waffletechnology card, engineered for Verifone's devices, will clean mPOS, countertop, pin pad, multilane, portable, and kiosk swipe and dip card slots. The unique waffled pattern on the card is extremely effective in safely removing dust, dirt, debris, and other contaminants from pins and other sensitive internal components.