"Routinely cleaning our thermal printers with KIC products has proven to be the easiest & most effective approach to improving overall reliability and print quality."
– Aaron – Area Supervisor at McDonald's

" … KIC provided immediate & sustained value by designing and iterating a custom product that fit our requirements. That solution has simplified & improved our ability to support our stores."
– Technology Product Manager, Starbucks
---
---
Thermal label printer devices, particularly the platen roller and the printhead, require routine cleaning to ensure optimal performance. Adhesive residue from labels, paper flash, and environmental contaminants such as dust, liquids, sugars, oils, and grease degrade label print quality over time. Restore your equipment back to peak performance with KIC's Waffletechnology® for Thermal Label Printers.
Waffletechnology® is the preferred, routine cleaning product to keep thermal label printer technology working properly. The card's extra-long profile paired with a powerful ripple scrubbing surface delivers a hassle-free, extensive cleaning in just seconds, and unlike other products, requires no special training to use. Cleaning cards are conveniently packaged in single-use packs, saturated with an eco-friendly cleaning formula, include easy-to-follow instructions and available in an assortment of sizes based on label roll width.
Sizes: 1-1/2″ (40mm), 3-1/8″ (80mm), and 4″ (100mm)
Performance
Weekly Cleaning
Our KICPad for Thermal Printers features dual-sided cleaning surfaces and a specialized formula to effectively clean and restore the platen roller, cutter block, and printhead inside Thermal Printer devices.
DiSantech Wipes® Disinfectant is an EPA List N registered and NSF approved disinfectant botanically derived from citric acid. This powerful disinfectant kills 99.9% of bacteria and viruses and will damage the sensitive surfaces of ATM.  Use routinely throughout the day to keep your customers and staff safe. Also available in a 32oz. spray bottle for use with lint-free cloths
Our Thermal Printer Cleaning Pen with Chisel is designed to quickly remove contaminants from performance-critical surfaces inside thermal printers and does a terrific job quickly cleaning off stick-on or baked-on debris on the printhead without damaging its sensitive surface.
Waffletechnology for Thermal Label Printers
KIC Thermal Printer Cleaning Pen
The Clean Routine: Electronics Cleaning Swab
The Clean Routine: KICPad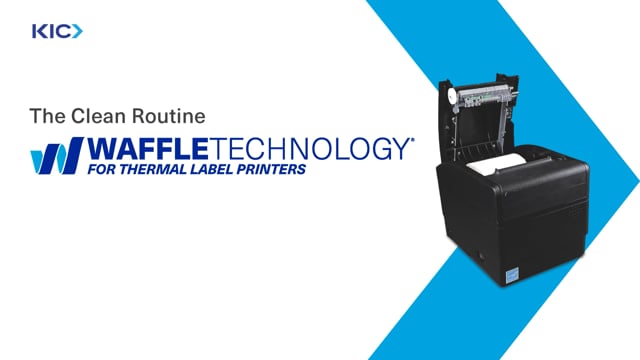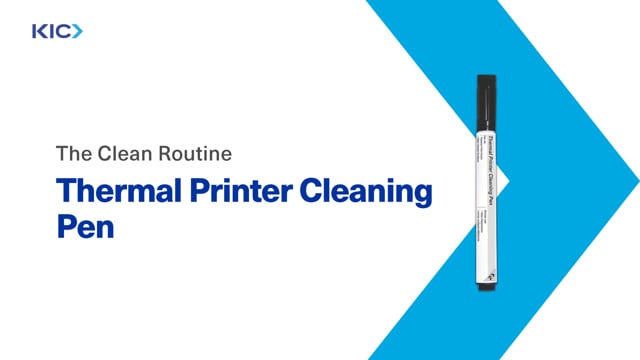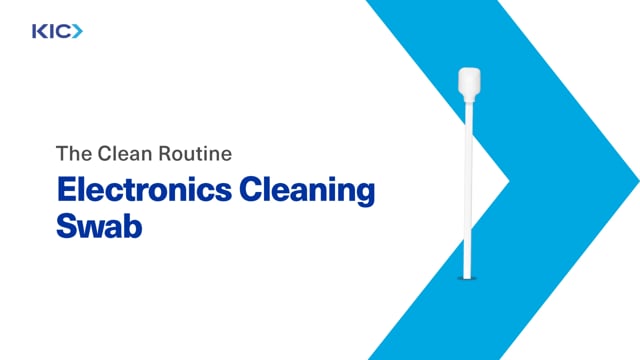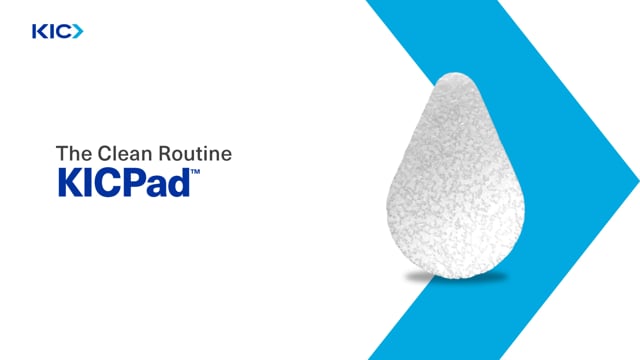 ---
Additional Products for Your Consideration:
Our Pre-saturated wipes come in two formats: 100-count canisters or individually pouched. These wipes permit quick, convenient, hassle-free cleaning and sanitizing of external equipment and hard surfaces.  The individually pouched format works well for field service technicians while canisters are great to have on hand in the storage room.   ClearDisplayTM, IPA, and DiSantech® disinfectant are appropriate for sensitive touchscreens, monitors, displays, and external cleaning of hard surfaces. SheerDeviceTM wipes were specifically engineered for heavy-duty grease, dirt, and oily environments – restaurants, fast food establishments, and gas stations find them very effective.
KIC has engineered a number of cleaning agents for cleaning technology. It is important to use the correct cleaning and disinfecting agent for each application.  MiracleMagicTM is effective for cleaning the internal components of cash automation technology (ATMs, bill/note validators, bill acceptors, and coin counters) while ClearDisplayTM, IPA, and DiSantech® disinfectant are appropriate for external cleaning.
We have a number of useful tools and applicators to make cleaning your devices even more effective. KICPads are excellent for tough, stuck on dirt and debris. KICTeam's Swisel®, with a soft swab end and a scraping chisel on the other, is wonderful for getting into tight spaces. Our swabs work well for cleaning keypads, keyboards, and other in-between spaces where a gentle scrub is needed.