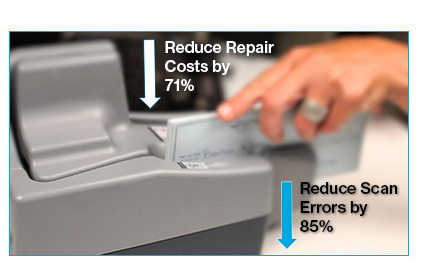 Reduce Scan Errors by 85%
KICTeam conducted a check scanner cleaning case study with its OEM partner Panini for a top U.S. bank that was looking at how it could more efficiently operate its check scanners. The function of the scanners is impaired over time as dust build-up and other environmental contaminants coat image sensors, clutter the feed path, and makes feed path rollers less "grippy". Jams, misfeeds, and poor quality scans result in equipment downtime and increase customer wait time at the counter.
The bank decided to implement regular scanner cleaning and determine how it could improve operations. The bank contacted the manufacturer of their check scanners, Panini, to learn what they recommended for cleaning. Panini recommended a cleaning program using products designed specifically for their scanners. The proprietary cleaning cards combine KICTeam's patented Waffletechnology® and WonderSolventTM to safely and effectively remove contaminants that build up during normal use, allowing scanners to operate at peak performance.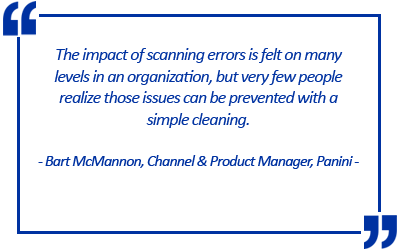 At the end of 30 days, scanners that were not cleaned experienced nearly twice the number of errors (85% more) compared to the scanners that were cleaned. This volume of errors meant that ONE HOUR per day, per branch, was added to customer wait time. Routine cleaning of the banks check scanners resulted in 85% fewer scan errors and, by allowing tellers to remain focused on the customer instead of correcting scans, the cleaning program delivered an improved level of customer service, increasing retention, and encouraging new referrals.
---
Talk to KIC today by clicking the website chat icon in the lower left corner of this page or call 1-800-818-1932.
Learn how KIC's products can achieve similar results for you.
---
Reduce Repair Costs 71% with Preventative Maintenance
In another 3-month case study KICTeam worked with Norway Saving Bank, located in Norway, Maine that maintains 24 branch locations throughout western and southern Maine.

Norway Bank's concerns centered on controlling and minimizing service and maintenance costs and avoiding unplanned downtime on check scanner devices. Preventative care cleaning was performed on their check scanners and the monthly cost of repairs and service on the devices was tracked. Cleaning products used were Waffletechnology® cleaning cards, pre-saturated swabs, and lint-free dry wipes.

The result was a 71% reduction in the cost of repairs on check scanners. It also resulted in greater productivity across Norway Bank's branches due to increased uptime of the devices and reduction in check scan rejection rates. Ultimately, this translates into improved customer service.